Frequently Asked Questions
About Us
Welcome to Orbeez Gun, the online destination for gel blasters that are handpicked from a range of top-quality manufacturers. We understand that some people may consider our prices to be steep, but we'd like to explain why this is the case.
Firstly, the cost of sourcing high-quality products is substantial, and our suppliers demand a premium for their wares. For example, purchasing a top-of-the-line MSR sniper gel blaster from a vendor can set us back a whopping 100 US dollars, just in shipping fees alone. Similarly, the cost of acquiring a cowboy revolver is upwards of 25 US dollars, and the combined shipping fees for both incoming and outgoing transportation can reach almost 30 US dollars.
We believe that the quality of our products justifies the cost. Every gel blaster that we offer has been thoroughly tested and evaluated to ensure that it meets our strict standards for performance and reliability. Whether you're looking for a fun activity to do with friends, or you're a seasoned airsoft enthusiast looking to upgrade your gear, we're confident that you'll find the right gel blaster for your needs on our website.
We understand that price is a key consideration when it comes to making a purchase, but we believe that investing in a high-quality product is worth it in the long run. With Orbeez Gun, you can be sure that you're getting a gel blaster that has been built to last, and that will deliver an unparalleled level of excitement and performance. So why not check out our website today, and find your perfect gel blaster today!
Q1: Is this website scam?
A: There are many customers asked us on the social media if this website is scam.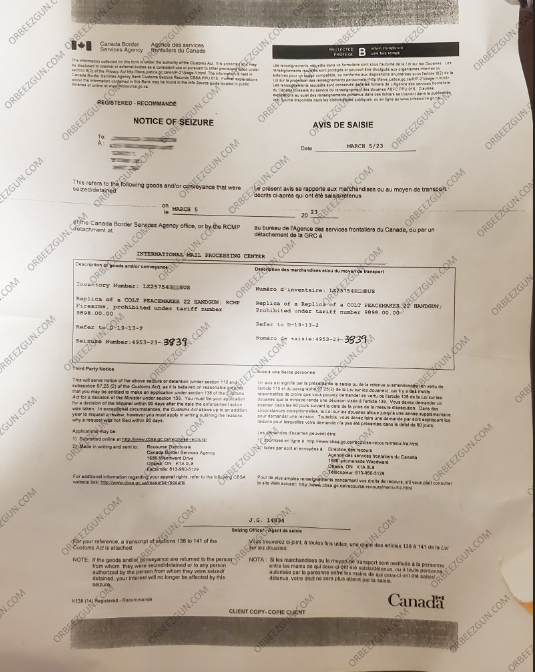 This is a notification document for the confiscation of our toy guns by the customs of different countries. The probability of being confiscated by customs is usually 1.5% – 3%. Adult toy guns are more likely to be confiscated by customs because they look very similar to real guns. Canada has stricter inspections on toy guns. Almost all of the toy guns we sent to Canada recently were seized by customs. 
Q2: What if your gun is seized by the customs?
A: Generally, the customs will send you a seizure document. After receiving the seizure document, you can take photos of the seizure document and send it to us by email. We will refund you in full without any loss.
Q3: How long will it take for my items to arrive?
A: Most adult toy guns are stocked in our US warehouse, it may take about 3-7 workdays delivery. But some kids version toy guns will be shipped out from China. Those items will take about 3-5 weeks delivery.
Toy guns are very special products. Especially the adult version toy gun with the appearance of a real gun. They will be strictly examined by the customs.
Q4: My Package Was Returned To Sender. What Do I Do?
A: In the event your package is returned to the sender due to an invalid address, you can choose to have it reshipped to an alternate or corrected address. Please email us at [email protected] to reship the package. If your package is returned to sender again. You will be charged for the cost of the postage.
Q5: What Is Your Return Policy?
A: We're happy to accept returns of new, unused and undamaged merchandise within 15 days from the delivery date. If for any reason you are dissatisfied with your order, please let us know.
Please visit our RETURN POLICY Page for instructions and full details on Returns.
Q6: Why is it more expensive than other website?
A: Here are some tips to help you quickly figure out the differences between our Orbeez guns and other options available on the market:
Material: Our Orbeez guns are crafted using high-quality sturdy nylon with metal components. In contrast, many cheaper alternatives are often made from low-quality plastics that may not offer the same durability and longevity.
Size: Our Orbeez guns are designed to be larger than most cheap options, such as the inexpensive KRISS VECTOR gel blaster. The larger size not only enhances the aesthetic appeal but also allows for a more comfortable grip and improved handling during play.
Weight: Our Orbeez guns are built with a substantial weight of 1.5kg to 3.5kg. This weight gives them a solid and realistic feel, adding to the overall immersive experience. Cheaper alternatives may feel lighter and less substantial, potentially compromising the authenticity of the gameplay.
FPS (Feet Per Second): Our Orbeez guns boast an impressive FPS rating of 200-280, which ensures a powerful and satisfying shooting experience. In contrast, cheaper options may have a lower FPS rating, typically around 100-180, resulting in reduced shooting range and impact.